Written and published by Best CBD Oils. Original source here.

—
Choosing a CBD oil is like picking a beach vacation. Sure, there are plenty that sound great, but which one is really going to give you the revitalizing effects you need?
Which of the Top 20 CBD Oils Is Best for Me?
There are a few key factors that play a role in deciding on your personal top pick. Are you looking for the full suite of cannabinoids that creates the entourage effect? Reach for a full spectrum oil made with aerial parts. This is the part of the plant that's bursting with active cannabinoids—in particular, cannabidiol (CBD).
The aerial parts of a true hemp plant also contain about 0.3% THC. Though it's true this is the chemical that can get you high, this concentration is what separates marijuana from hemp. Most popular recreational marijuana strains have far higher concentrations, often landing within reach of 20% THC.
Why Is There THC in CBD Oil?
Even though the THC present in hemp-based CBD products is microscopic, it is still present in plenty of products. When it is, it's called full-spectrum hemp.
There is some practicality to THC, even if it isn't being used to create a high. When all the chemicals nature intended to be together join, they are strongest. In the case of hemp, CBD is the star of the show, and the constituent cannabinoids are there to help it reach its full potential.
There are some people who don't want to have these constituent cannabinoids (namely THC). The good news is, there are two completely THC-free CBD oil products available: broad-spectrum and isolate.
Broad-Spectrum vs. Isolate
Broad-spectrum CBD oil will contain a range of cannabinoids of the plant (CBD, CBG, and/or CBN), none of which have psychotropic effects. But there is absolutely no THC in these products. That is completely stripped out.
Alternatively, isolate-style CBD oils strip the active cannabinoids down to nothing but CBD, giving you CBD products that are 99%+ pure.
What Are the Top CBD Oils?
There are also other factors to consider when you're combing through CBD oils—like how you intend to use it. CBD can be taken in many ways, from drinking a CBD tincture to vaping a juice. So the type of oil you get should always match the chosen uptake.
Many people like the ease of dropping the oil under the tongue and letting the effects take place quickly. Others prefer to add it to drinks or smoothies. These two methods of ingestion can be used with the same type of edible CBD tincture–which you'll find on this list.
Note: If you intend to vape CBD, be exceedingly careful which product you buy. Not all products are made to be subjected to the high heat that's necessary to create the vapor. Vaping the wrong type of CBD oil can compromise the oil or even your health.
CBD is a great substance that, when added to your wellness routine, can work wonders for your overall health! There is no need for there to be danger involved as long as you make a well-considered choice and are presented with the best products available.
Here, you'll find 20 of the most trusted, valued, and proven CBD oil products on the market today, so you can have peace of mind when you buy and truly reap the benefits when you start using it.
1. Farmacy Bliss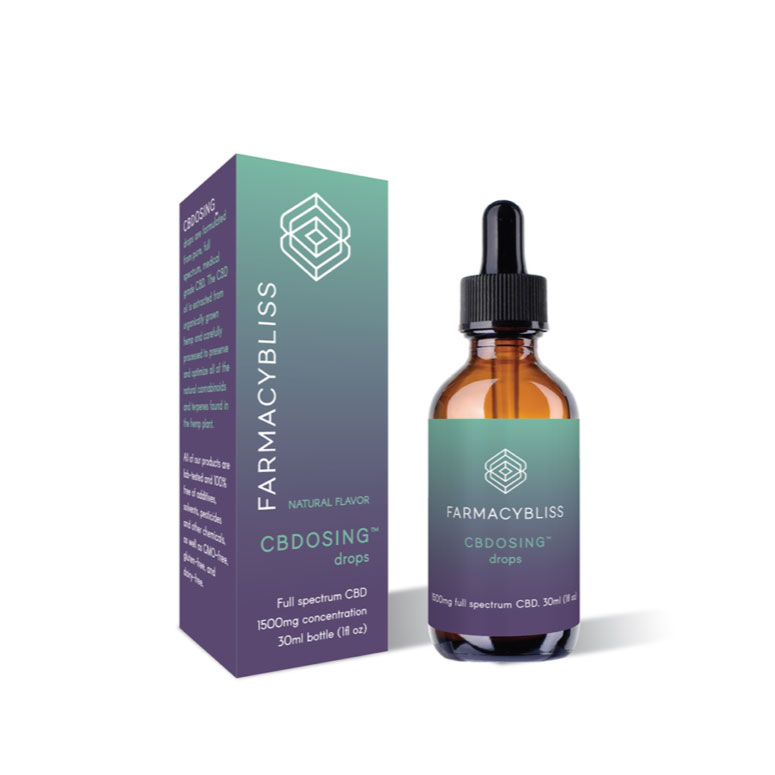 This particular full spectrum CBD oil, called CBDOSING Drops, is one of our favorites. It's made in the United States with organic hemp and combined with MCT oil. Full spectrum means you'll enjoy the benefits of all available and active cannabinoids, including THC and CBG.
Most companies ensure their product contains a maximum of 0.03% THC, but Farmacy Bliss takes it a step further and brings it down to 0.02%. This small but significant change is one that proves they are committed to keeping your needs and wants top of mind.
As for the investment, it also beats out some of its top contenders for affordability. You'll spend $.08 per 1500 mg of CBD, making it about $2.50 a dose. For potency, price, and going the extra mile for customers' concerns, Farmacy Bliss is our #1 choice for the top full spectrum CBD oil for sale .
Best for: Anyone who wants the least amount of THC possible in an organic hemp oil.